'Angry Birds' flock to China
Updated on: 2012-06-19 || Source: cnn.com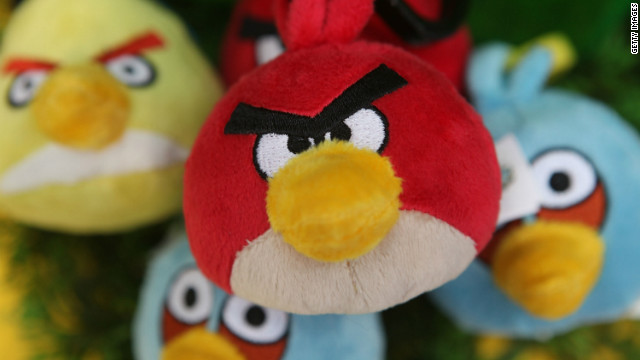 Hong Kong (CNN) - The Angry Birds' red faces have been etched on bras, embellished on T-shirts, turned into stuffed toys and baked into mooncakes. China has a love affair with Angry Birds as both unofficial and official merchandise have boomed in the country.
Rovio, the creators of the blockbuster game, will open game-themed retail stores and activity parks in China.  It's the first country to get these parks and stores outside Finland, where the game originally hatched.
The first retail store in China opens in Shanghai on July 3, and the Beijing location opens on July 10, where shoppers can find a bevy of  merchandise featuring green pigs and furrow-browed birds.

An Angry Birds Activity Park will be built inside Tongji University in Shanghai. The park will feature game-themed rides, benches and what the company described as "decorative elements."
That park will be located inside the Sino-Finish Center design factory, which will invite the college students to help co-design future Angry Bird parks in China, according to a company release.
"Instead of building one massive amusement park, we're planning to build hundreds, maybe even thousands of activity parks here in China," Peter Vesterbacka, Rovio's chief marketing officer,  told Xinhua.
Rovio officially opened its Shanghai office last week, according to a company statement.
Last year, the entertainment media company updated its Angry Birds Seasons showing the birds-on-pig attack at the moon festival, with pagodas and red lanterns in the background.  Then, it came out with a Chinese New Year theme in the beginning of 2012 for Angry Birds Seasons.
"We're very excited about the opening of our first retail stores in China,"  Vesterbacka said in a press statement.  "We have a very active and engaged Chinese fan base, and we're excited to continue expanding our presence and serving our fans even better."
News
Views: 5213 Times
Spelling and Grammar Checking in Word 2007
READ MORE
Views: 3773 Times
Skype confirms 3D video calls are under development
READ MORE
Views: 2977 Times
Apple faces delay in seeking U.S. ban of Samsung tablets
READ MORE
Views: 5594 Times
Fedora 17 Has Been Released, Download Now
READ MORE
Views: 7380 Times
Copyright © 2019. Jumbo Education (Information Technology). All rights reserved.